LYRA 2016 Annual Regatta
Whitby Yacht Club 50 Year Anniversary
The Whitby Yacht Club is thrilled to host the 132nd annual LYRA regatta as we celebrate our golden anniversary.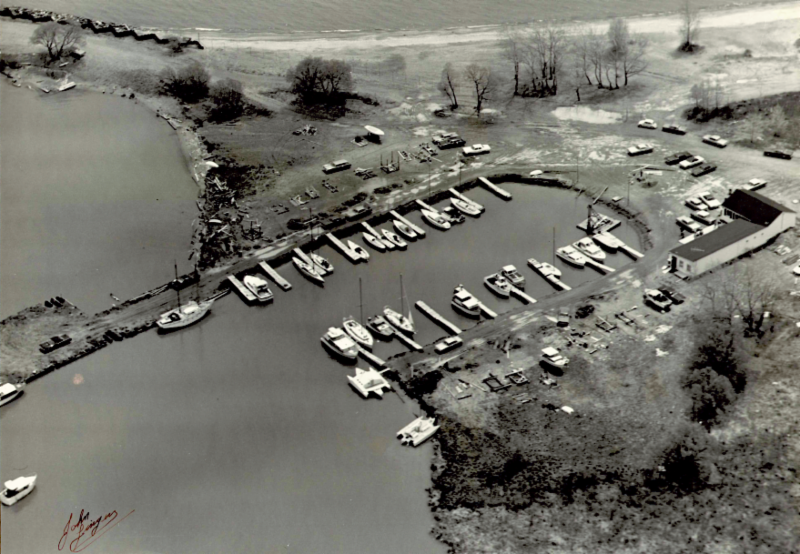 From its humble beginnings in 1966, the club has come a long way in 50 years!
Hosting LYRA in 2008 was a first for WYC and we are busy with preparations to make the LYRA annual regatta a success again in 2016.
See
wyc.ca/LYRA2016
 for more details and Notice of Race.
Registration is now open on Yacht Scoring
Just a reminder that registration fees go up after May 1st.
We have fielded several questions from racers with deep drafts about coming to Whitby for LYRA.
As mentioned WYC has several deep draft boats in their fleet:
MUMM 36 ACE (7-4)
1D35 Razorbill (7-6)
Beneteau 36.7 Snapshot (7-2)
JN40 Graffiti (9-0)
The channel to the club is not a problem, but there are several silted "humps" that need to be avoided with boats over 7ft draft. Graffiti goes out racing every week, and doesn't have a problem, as the skipper knows where to go (or knows where NOT to go!)
We will have the channel marked well for deeper draft boats and have identified slips for to accommodate virtually anyone except for maybe the open 60 O Canada.
Water levels are above chart datum now and typically stay high until late August.
Having said all this, we are working on several contingencies:
we have four mooring balls in Lake Ontario (only used if calm)
add mooring balls within the protected harbour
add secured floating dock within the protected harbour to raft deep draft boats
anchoring in the protected harbour
slips at the marina across the bay
water shuttle service
The draft in the area marked above is over 12ft, and out of the channel.
Boats regularly anchor there. The circles are mooring balls in Lake Ontario.
Rest assured, please plan on coming to LYRA 2016 at the Whitby Yacht Club.
We look forward to attracting some dry-sail classes and PHRF/IRC boats using our recently refurbished crane.
The crane has a capacity of 6,000 lbs., a working height of 18ft, and at a water depth of 6 ft. It's more than capable of single-point lifting a T-Bird, Shark, Viking 28, J/80 and other similar boats from a trailer.
We will also have secure onsite trailer storage.
LYRA 2016 Sponsored Junior Event
Centrals on Sodus Regatta July 9 – 10
Centrals as may or may not know is a joint regatta hosted by Sodus Bay Junior Sailing Association and Sodus Bay Yacht Club. The traditional foodservice after racing will be hots and hamburgers, salads and soft drinks for all competitors. Entry fee includes T-shirts, snacks on the water, continental breakfast, and cookout after racing.
Registration will be online only, hopefully everyone will register early. Registration will be through Regatta Network, credit card or check presented at check-in. Stay tuned to the SBJSA website 
www.sbjsa.org
for the Notice of Race and other info by early April, followed soon after with on-line registration details via Regatta Network. The NORs and Registration will be up and running soon.
The Centrals on Sodus Regatta is primarily a youth-centered event for juniors in the western NY region (Area E).  This year we can expect to see a lot of adult sailors competing as well in the Laser District 9 Grand Prix Championship for both Standard and Radial rigs.
Three race courses will be run in the protected waters of Sodus Bay, with excellent opportunities for parental spectating, as well as observation (only) by coaches.
This year's regatta will feature:
The Lake Yacht Racing Association Annual Jr. Regatta
Divisions for Club 420 both Spinnaker and Non Spinnaker ( no collegiate sails)
Laser Division for Radial and Full Rig Juniors
Laser District 9 Grand Prix Championship (Adult and Junior Awards)
2 Day Opti Gand Prix Regatta
International Awards for Single Handed Male and Female
International Awards for Double Handed Teams (420)
We encourage and welcome youth and adult sailors in the classes mentioned above to come and participate. It is an open event. Please direct any questions to Regatta Co-Chairs Mike Foley, SBJSA Director of Fleet (
mfoley@rochester.rr.com
; 585-748-7006) and Ed St. George, SBJSA President (
edstg@rochester.rr.com
: 585-298-0112). Thanks and see ya in July!
LYRA 2015 BOAT OF THE YEAR – One Design Racing
Nautical Symphony
2015 was a very successful year for the J80 "Nautical Symphony" based out of ABYC in Toronto. Owned by Bart Smit and Pascal Desrosiers, with team members David Holmes and Gitte Frederiksen, the boat sailed to victory or a podium finish in each regatta she entered.
Bart began sailing in 2008 Port Credit Yacht Club on a Hanse 411. In 2012, Bart & Pascal acquired Nautical Symphony and joined Ashbridge's Bay Yacht Club, which is where they met David Holmes.  With David's extensive experience, the team quickly became very competitive. Mike Wolfs began coaching Nautical Symphony in 2013 and the team has not looked back since.
In 2015, Nautical Symphony took first place in the J/80 fleet at the Toronto Area Hospice Regatta, the RCYC Open Regatta, and second place at the Ashbridge's Bay Open Regatta and the Queen City Open Regatta. At the 2015 LYRA Regatta, she finished first in the J80 Division earning both the Hans Fogh Award and the Bud Doyle  Bowl for overall One Design winner.
Last year was the first time the new E.J. "Skip" Doyle Trophy was presented to the winner of the LYRA OD BOTY.  Skip was an avid and highly successful competitor on LYRA waters and beyond for over 6 decades, his yachts' names having been engraved on countless trophies over the years.  He is also a Past President of LYRA and up until he finally retired from racing he remained the guy to beat.  Throughout his sailing career he strongly favored one design racing and exhibited a high level of sportsmanship and embodied the Corinthian spirit.  After a day's racing the party could usually be found in the cockpit of his boat.  Details outlining the selection and eligibility process for this award may be found on the LYRA website.
2016 River City C&C Owners Regatta
Youngstown Yacht Club is proud to be bring back the C&C Owners Regatta and Rendezvous in 2016.  We will be hosting the Regatta & Rendezvous August 12-14, with racing on Saturday, August 13th & Sunday, August 14th!
2016 CanAm Regatta
On July 23-24 the Youngstown Yacht Club will once again host the CanAm regatta, which is the successor to the famed YYC Level Regatta.  The CanAm features top notch race management with four uncrowded courses and plenty of fun shore side social activities.  Registration for this event is now up on Yacht Scoring 
http://www.yachtscoring.com/emenu.cfm?eID=1627
2016 J/70 Great Lakes Championship
A three day event to be held in conjunction with the CanAm regatta, July 22-24.  The GLC for the J/70s rotates among the larger Great Lakes fleets and comes to Lake Ontario about once every four years.  Registration for this event is now up on Yacht Scoring
http://www.yachtscoring.com/emenu.cfm?eID=1627
Canada's Cup in 2016
This year will see another edition of the Canada's Cup competition on Lake Ontario.  Present holder of the trophy, RCYC, will be the Defender.  The Challenger will be determined by a selection series being run by the Sodus Bay Yacht Club, with one entry from the Youngstown YC facing off with two entries from SBYC to determine who will go to the finals in Toronto.
Vanguard 15 Fleet in Youngstown
A common lament in our sport is the lack of young people staying in racing after their junior sailing days are over.  Therefore we are pleased to announce that a new fleet of small one designs was formed last year in Youngstown, with all the owners being in their 20's and 30's, even a teenager or two.  Vanguard 15s are available at low cost and can be sailed by a wide range of people, often husband and wife or parent and child.  At YYC they race off the dock on Friday nights, with short courses in full view of the dinner crowd.  The emphasis is on fun and learning and nobody pays much attention to the scoring.  The key to a successful program like this is a champion who organizes and promotes and encourages and we are most fortunate to have Justin hays in that position.